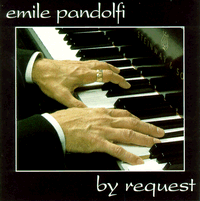 By Request
Classically trained from age five, Emile Pandolfi has been delighting audiences in nightclubs, cruise ships and concert halls for the past 26 years. It was at the request of his many fans that he made this recording. We hope that you enjoy listening to By Request as much as he enjoyed recording it. Listen below.
Track Listing:
1. Somewhere In Time
2. Les Miserables Medley
3. Romeo And Juliet Are Wed
4. Theme from Dr. Zhivago
5. Send In The Clowns
6. Memory
7. Somewhere Out There
8. Phantom Of The Opera Medley
9. Chariots Of Fire
10. Don't Cry For Me Argentina
11. Can You Read My Mind?
12. Theme From Ice Castles
13. Brian's Song
Listen here: