A Child's Gift of Lullabyes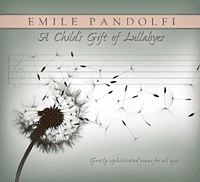 A Child's Gift of Lullabyes
Twenty years after the release of the first in his Grammy-Award winning series, A Child's Gift of Lullabyes, producer J. Aaron Brown discovered best-selling pianist Emile Pandolfi. In celebration of this now-classic collection, Emile brings the magic of his arrangements along with his sensitive touch at the piano, to these timeless melodies in Emile Pandolfi presents A Child's Gift of Lullabyes.
Gently adding layer upon layer of innocence and playfulness to these memorable melodies, Emile raises the standard of children's music with an underlying sophistication born of simplicity that will at once capture the imagination of children and satisfy the hearts of discerning music lovers of any age.
To babies, children, parents and grandparents everywhere, we wish you sweet dreams! Listen below.
Track listing:
1. Playing a Lullaby
2. Tomorrow We'll Go to the Fair
3. Someday Baby
4. Hushabye Street
5. Wings
6. Appalachian Lullaby
7. I. L.O.V.E. Y.O.U.
8. Lullabye for Teddy
9. Dream Theme
Preview tracks: